Chlorophyll is a super-concentrated, alkalising antioxidant liquid that counteracts the acidic nature of modern lifestyle and processed foods. Derived from Mulberry leaves, chlorophyll helps to cleanse, alkalise and deodorise the body. Ideal for use as part of a detox programme or just for everyday health and vitality and it has a natural peppermint flavour.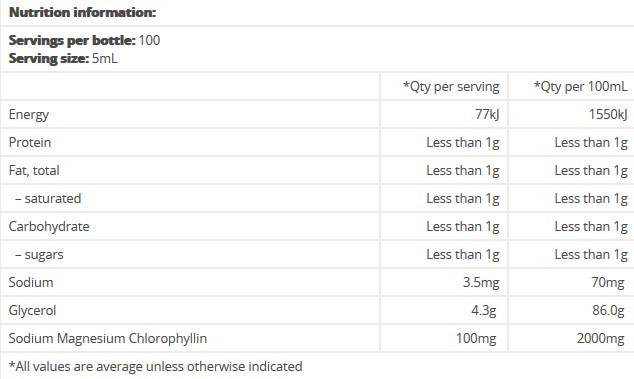 Ingredients:
Glycerol (vegetable), Water, Sodium magnesium chlorophyllin (2%), Natural flavour, Acidity regulator (citric acid), Preservative (potassium sorbate).
Formulated without
Gluten, egg, dairy, soy, wheat, alcohol, artificial flavours, artificial sweeteners or artificial colours.
Recommended for:
Diets high in processed foods
An over-acidic body
Chronic poor health
Chronic joint stiffness & inflammation
Lack of energy and vitality
As part of a detox program
Body odour
Bad breath
Sluggish liver
Poor iron absorption
Package Contents:
2 x Good Health Liquid Chlorophyll 500ml
**** PLEASE NOTE: This is dated stock and the Use By Date is NOV 2016 ****