If you find your body's inner health and digestion are out of balance, and you are bothered by bloating, tummy trouble, digestive upset or occasional constipation, your digestive system may need relief. Formulated with friendly probiotics and a prebiotic, Restore Daily Probiotic can help ease tummy trouble and help restore your digestive health so you feel great on the inside!
Do you feel the effects of:
Bloating
Gas
Flatulence
Digestive upsets
Digestive flora imbalances
Support your digestive health each day with Restore Daily Probiotic to feel good on the inside. Stress, certain preservatives, alcohol, dietary factors and some medications may affect the balance of friendly bacteria in your body's digestive system. The "friendly probiotic duo" in Bioglans daily probiotic can help restore your balance of friendly bacteria.
It's easy to take Restore Daily Probiotic every day. Our fridge free formulation means it is now easy and convenient to take your probiotic every day as there is no need to keep it in the fridge (Room temperature stable at 25°C)
Home – no need to keep it in the fridge, Restore can be kept in the cupboard with your other vitamins.
Work – Restore can be kept in your desk drawer or other convenient, easy location!
Purse – Can be kept in your purse, bag or computer case.
Travel – Easy and convenient to take travelling. 'Fridge free makes it even easier to pack them to take with you.
Active Ingredients: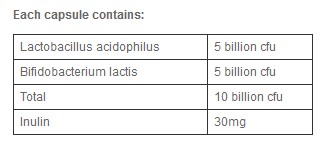 Package Contents:
2x Bioglan Restore Daily Probiotic 28C
**** PLEASE NOTE: This is dated stock and the Expiry Date is NOV 2016 ****